Menstrual Cups
Regular price
Sale price
€19,90
Unit price
per
Sale Liquid error (snippets/price line 33): Computation results in '-Infinity'%
Sold out
---
High demand
🔥
40+ bought in past month
✓
Fast & discreet delivery
✓
Free shipping within 🇩🇪 from €15,00
✓
Purchase on account, PayPal & more
✓
Best customer service
---
Simple. Healthy. Period.
Menstrual cup that holds 4-6x as much as a tampon
Comfortable design that fits your body
Great for oral sex
Reusable and easy to clean
Save money on tampons and pads
Practical storage bag included
Product Specs

 Type

Menstrual Cups

Dimensions

Size A: 5,3 cm, Ø 4 cm and 20 ml
Size B: 5,8 cm, Ø 4,3 cm and 30 ml

Weight

Size A: 41,4 g
Size B: 42,8 g

Materials

100% medical grade silicone, non-porous and hypoallergenic

SKU

Size A: 95005

Size B: 95006

Explore Kit: 95007
Shipping

Standard Delivery

We offer free shipping within Germany for all purchases over €15,00. For any orders under €15,00, shipping costs of €3,95 will be charged.
Shipping to all other EU countries, Switzerland and Norway is free for all orders over €40,00. For any orders under €40,00, shipping costs of €4,95 will be charged.

Express Delivery

We offer a paid-for, express delivery service for deliveries to EU countries (except Germany), Switzerland, Norway and United Kingdom for orders over €40,00. The express delivery with FedEx Express will cost you €6,95.

Delivery to EU third countries (Switzerland, UK, Norway, Iceland, Liechtenstein)

Please note that though we offer free delivery for orders over €19,00, orders could be subject to country-specific, import and customs charges. These charges are calculated by the shipper and will be added to your order.

Do you have more questions? Check out our FAQ section.
Share
View full details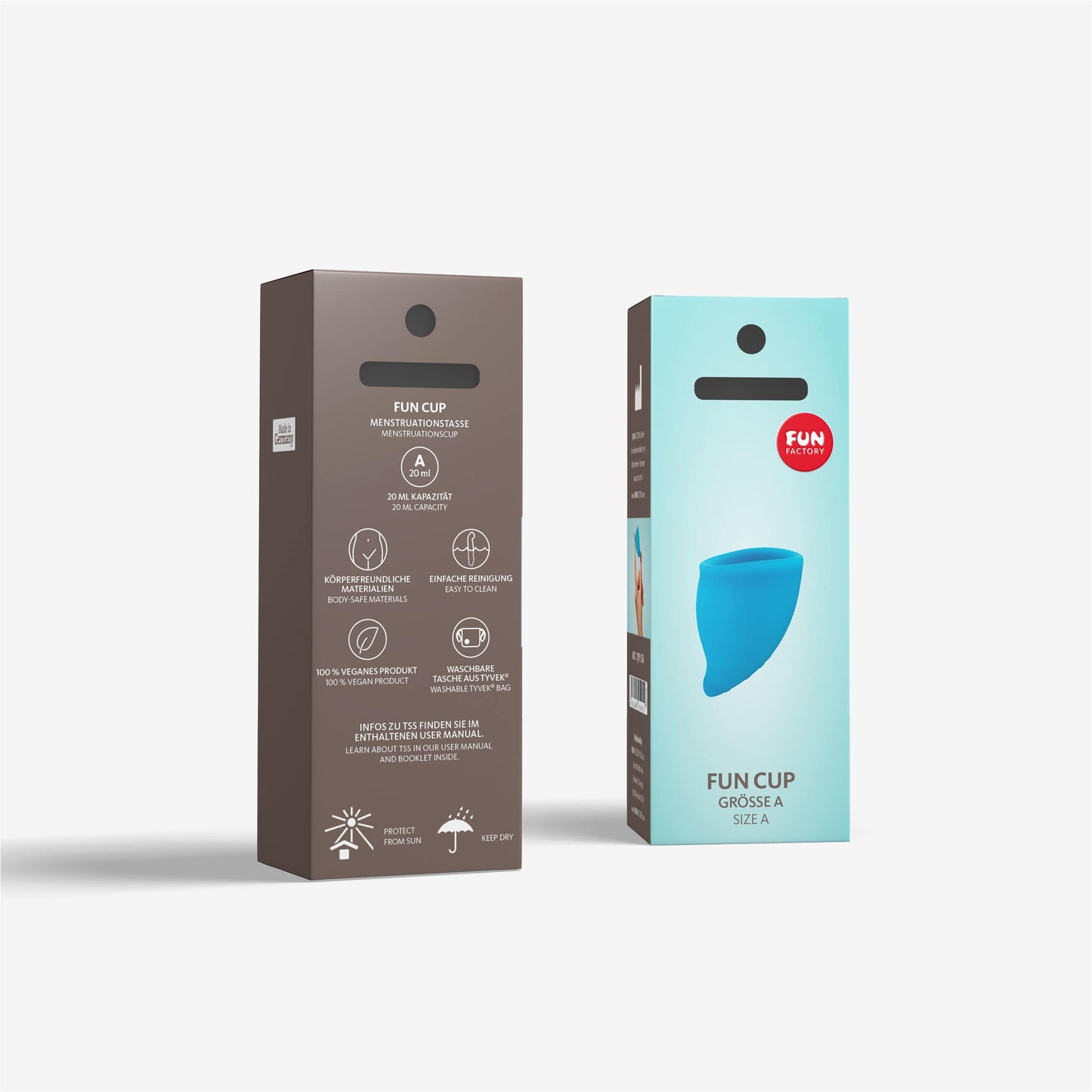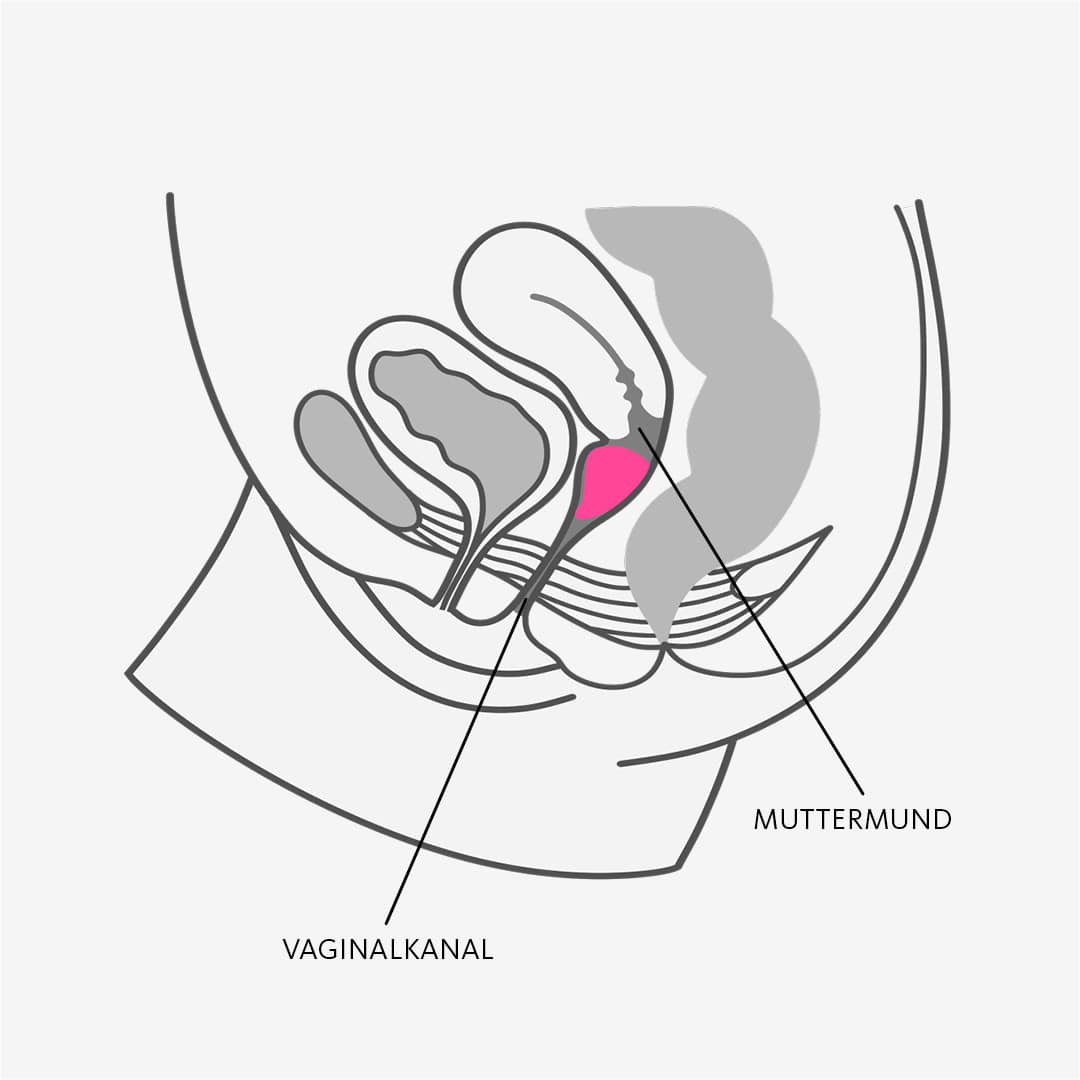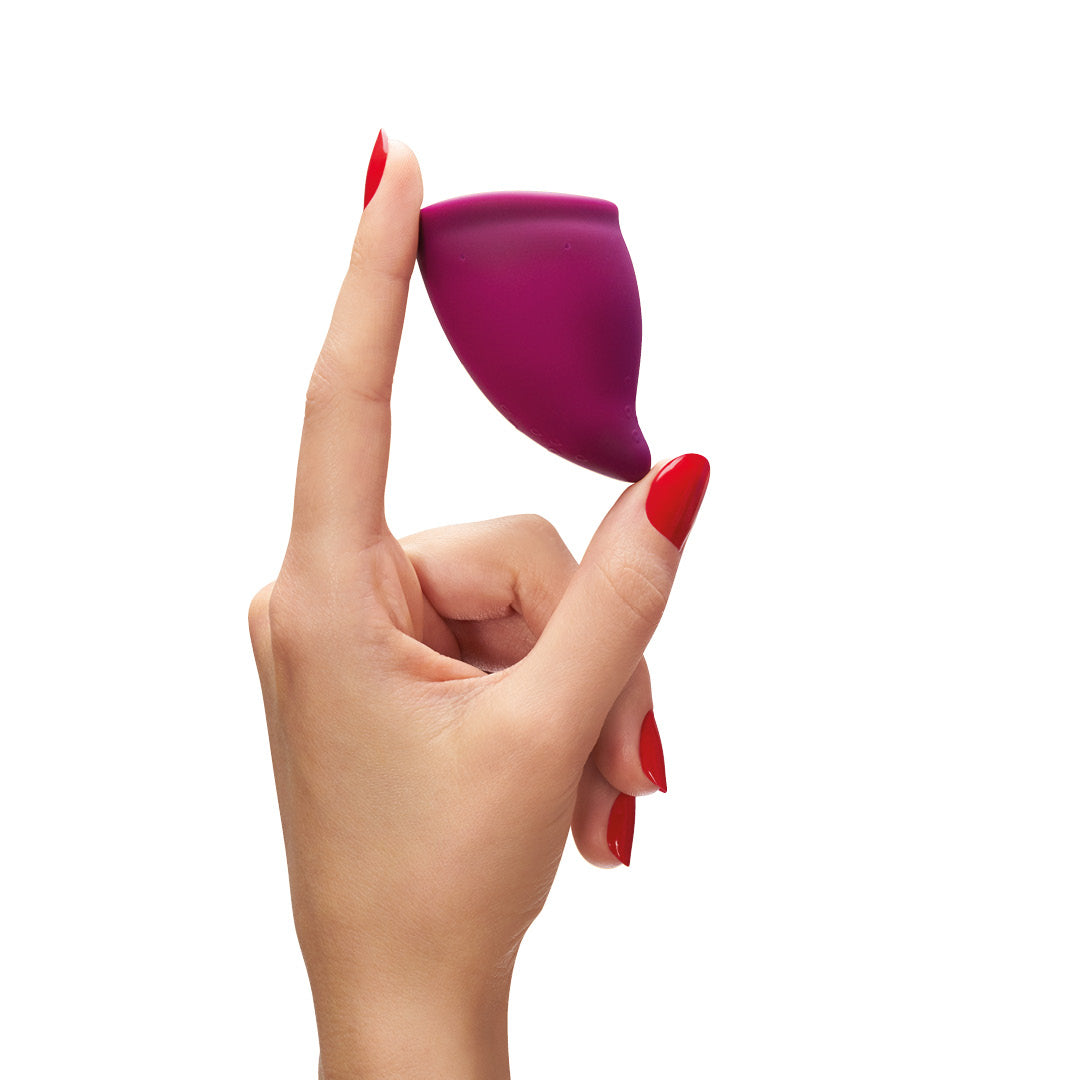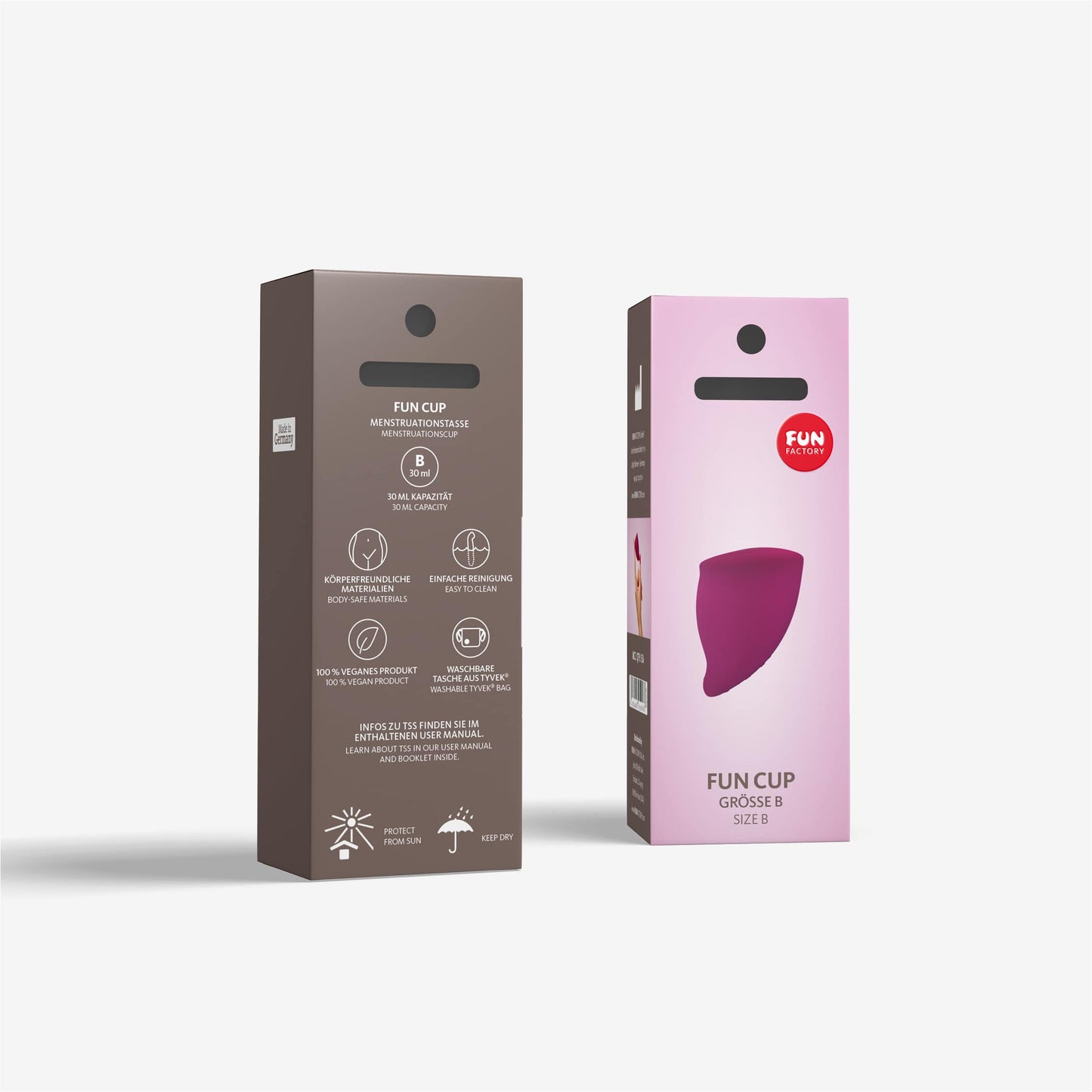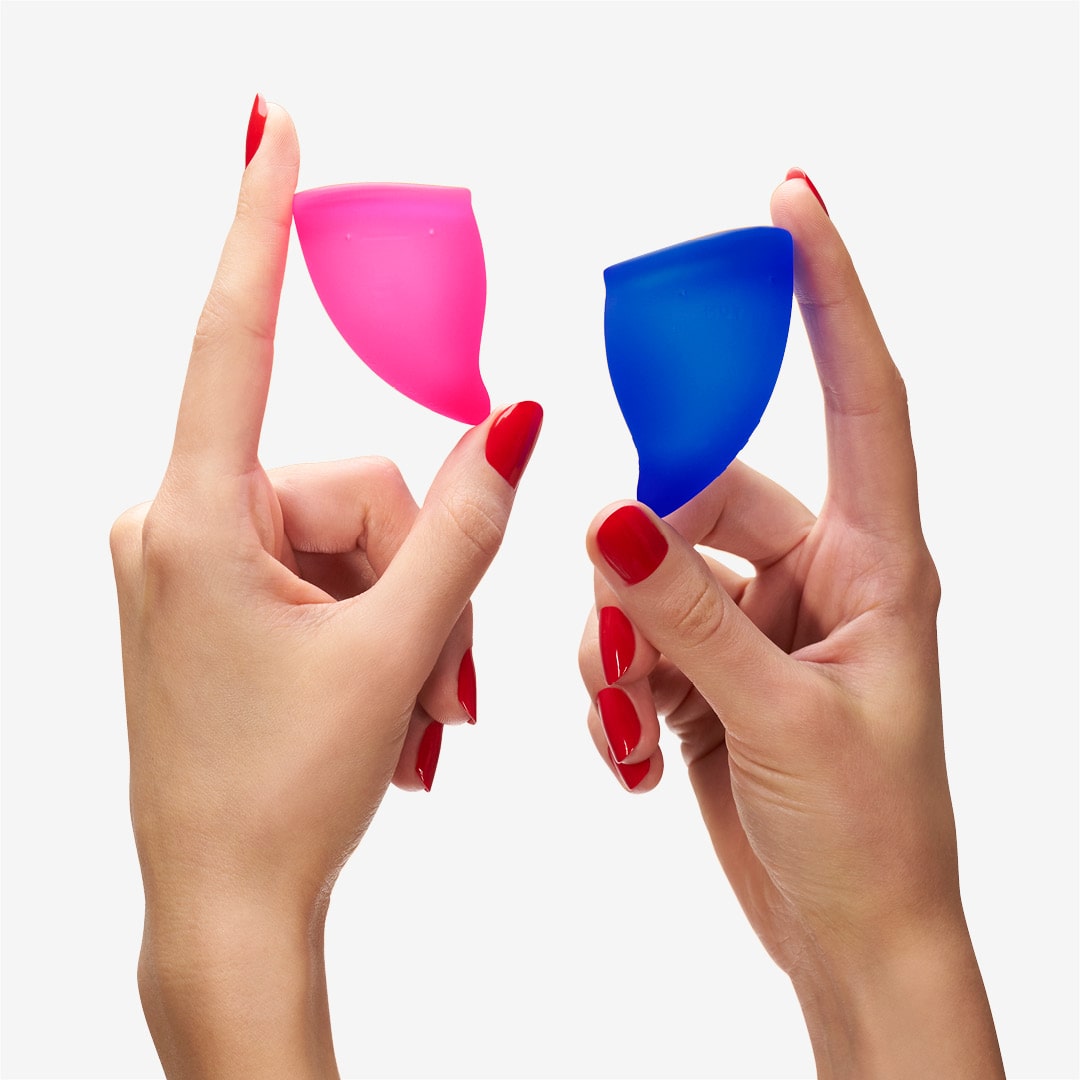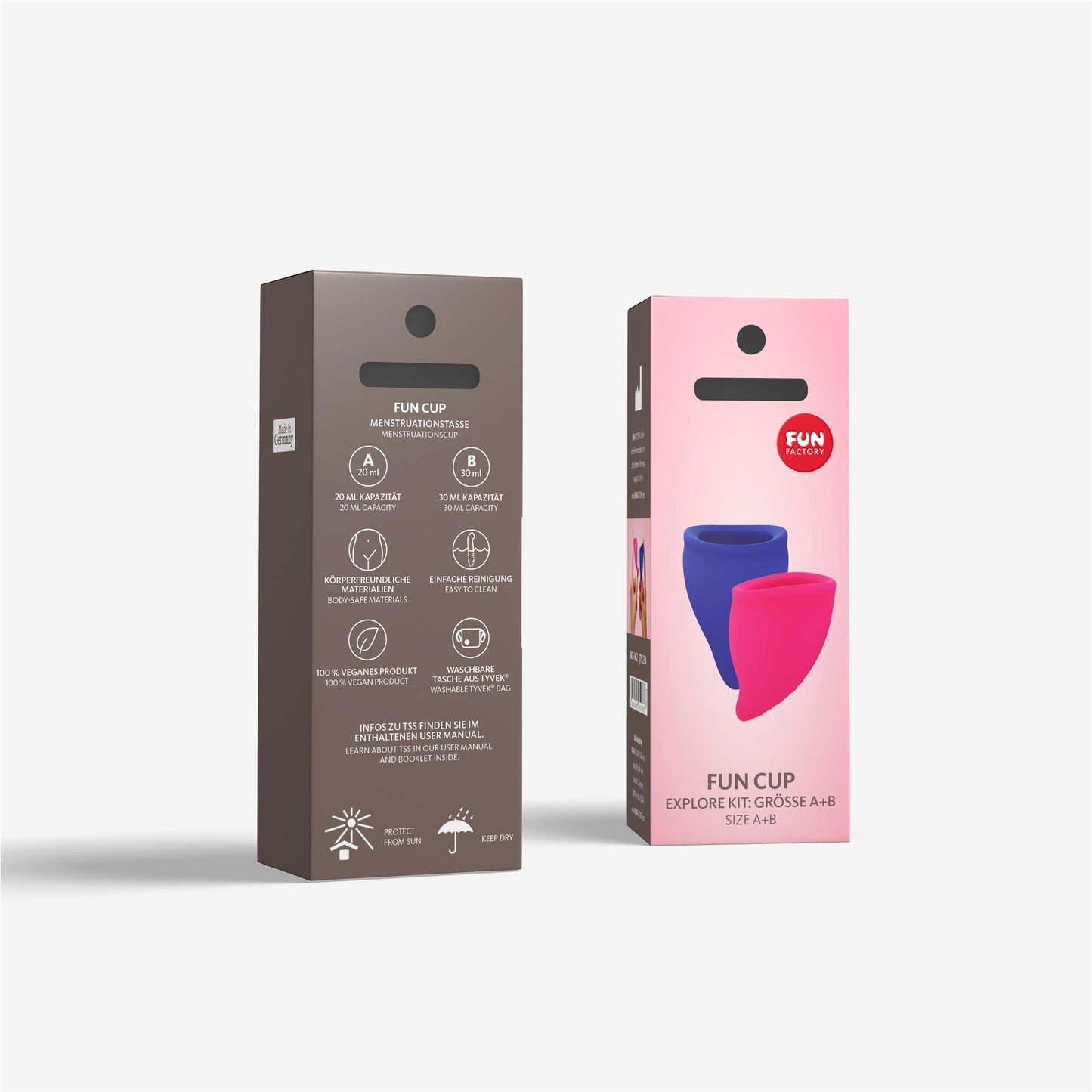 COMFORTABLE MENSTRUAL CUPS
Never make a late-night tampon run again! The reusable FUN CUP holds 4-6x as much as a tampon, depending on which size you choose. This silicone menstrual cup sits in your vagina comfortably and unnoticeably, leaving you free to go about your life. When you're ready, just empty it, rinse it out, put it back in, and go back to not thinking about your period.
WHAT MAKES THIS MENSTRUAL CUP SPECIAL?
The FUN CUP is a menstrual cup shaped to curve with your body. The rim is thicker and firmer, to keep your cup reliably in place. The tapered tip is also firm, for easy adjustment. In the middle, the silicone is softer and thinner, so it conforms to the shape of your body, for maximum comfort. Bonus: it comes with a storage bag!

Plus, folks who are sick of hyper-feminine period products (baby pink! florals!) will love that the FUN CUP comes in a variety of colors, the Tyvek ® bag is a simple champagne color, and all of the language in the packaging and instructions is gender-neutral.
IS THE FUN CUP GOOD FOR SEX?
Not doing deep penetration? You don't even need to bother to take it out. The FUN CUP is great for oral, light fingering, strapping on a harness, and more.

Plus, sex is just better when you're not all dried out from using a tampon or sticky from using a pad. Trust us. Besides, while tampons can leave micro-tears in your vagina, leaving you more susceptible to infections, the FUN CUP keeps your vagina healthy, lubricated, and ready for action.
WHAT ARE OTHER ADVANTAGES TO USING A MENSTRUAL CUP?
Money is a big one! The average tampon user will spend over € 80 per year on tampons. The FUN CUP is only 19,90€, or 34,90€ for the Explore Kit! Not only does it pay for itself in savings, but you can keep using it safely for years. Eco-bonus: it cuts your period-related waste to basically zero.
HOW DO I CLEAN A PERIOD CUP?
Take the period cup out while you're on the toilet or in the shower, and pour out any blood that's been collected. Then, rinse it out thoroughly with warm water. Make sure to use unscented soap when you wash it, to avoid irritation.
When cleaning, pay special attention to the hard-to-reach holes. And remember to wash your hands before inserting or removing your cup!

For a deeper clean, boil it for 3 minutes in pure water to sterilize. Dry it off. Clean the bag with water and some mild soap and let it air dry. Do not use any other cleaning agents than those specified. Store the products dry and protected from sunlight.

WHICH SIZE SHOULD I CHOOSE?
Let's take a look at your options! Remember that these are general suggestions, and there are many exceptions to all of them. You know your body better than we do. When in doubt, start with the EXPLORE KIT.
FUN CUPS

SMALLER (5,3 cm; Ø 4 cm; 20 ml)
Firmer silicone for greater control when placing and adjusting a smaller cup
Good for: lighter flow, people with a shorter vaginal canal

SIZE B

LARGER (5,8 cm; Ø 4,3 cm; 30 ml)
Softer silicone for a comfortable fit that holds a heavy flow without feeling intrusive
Good for: heavy flow, people with a longer vaginal canal

EXPLORE KIT

(1 SIZE A & 1 SIZE B)
Good for: people who don't know what size they should choose or want one period cup for lighter days and one for heavy days
SHOULD I BE CONCERNED ABOUT TSS?
TSS is very rare, both in general and with menstrual product use. It is very dangerous and can also be deadly under some circumstances without treatment. TSS can occur for any one of several reasons and is caused by toxic strains of bacteria entering the bloodstream.

Symptoms of TSS:
- sudden fever
- attack of shivers
- sickness
- vomiting
- muscular pain
- drop in blood pressure
- dizziness

If symptoms appear, take the FUN CUP out and go to the doctor. Make sure to tell the doctor that you used an insertable menstrual product. If you have had TSS before, it is not recommended that you use the FUN CUP. To reduce risk of TSS please follow instructions for use. In general, we recommend consulting with your doctor before using a new menstrual product.