Toy Kit for the Clitoris
Regular price
€177,90
Sale price
€149,90
Unit price
per
Sale 16%
Sold out
---
✓
Fast & discreet delivery
✓
Free shipping within 🇩🇪 from €15,00
✓
Purchase on account, PayPal & more
✓
Best customer service
---
EXPERIENCE EARTH-SHATTERING CLITORAL ORGASMS
Toy kit for pure clitoral pleasure—at a bargain price!
STRONIC PETITE, a mini pulsator, massages the inner clitoris with every thrust
Our VOLITA vibrator has two flexible tips for external stimulation
No-fail toy combination for full clitoral stimulation & fabulous OMG orgasms
Plus, high-quality packaging & handy TOYBAG M make it a great gift
Product Specs

Type

Toy Kit for the Clitoris

Dimensions

STRONIC PETITE: 17cm, Ø 2,5-3,5cm

VOLITA: 16cm and Ø 3,1cm

TOYBAG M: 25 x 12cm

Weight

STRONIC PETITE: 216g

VOLITA: 81g

Materials

Toys: Body-safe materials, non-porous & hypoallergenic

Toybag: 100% Polyethylen (Tyvek®)

Contents

STRONIC PETITE, VOLITA, TOYBAG M, USB charging cable, user manuals including inspiring play suggestions, box

SKU

STRONIC PETITE: 4140000

VOLITA: 18706

TOYBAG M: 60102M

WEEE register no.

DE66139642
Shipping

Standard Delivery

We offer free shipping within Germany for all purchases over €15,00. For any orders under €15,00, shipping costs of €3,95 will be charged.
Shipping to all other EU countries, Switzerland and Norway is free for all orders over €40,00. For any orders under €40,00, shipping costs of €4,95 will be charged.

Express Delivery

We offer a paid-for, express delivery service for deliveries to EU countries (except Germany), Switzerland, Norway and United Kingdom for orders over €40,00. The express delivery with FedEx Express will cost you €6,95.

Delivery to EU third countries (Switzerland, UK, Norway, Iceland, Liechtenstein)

Please note that though we offer free delivery for orders over €19,00, orders could be subject to country-specific, import and customs charges. These charges are calculated by the shipper and will be added to your order.

Do you have more questions? Check out our FAQ section.
Share
View full details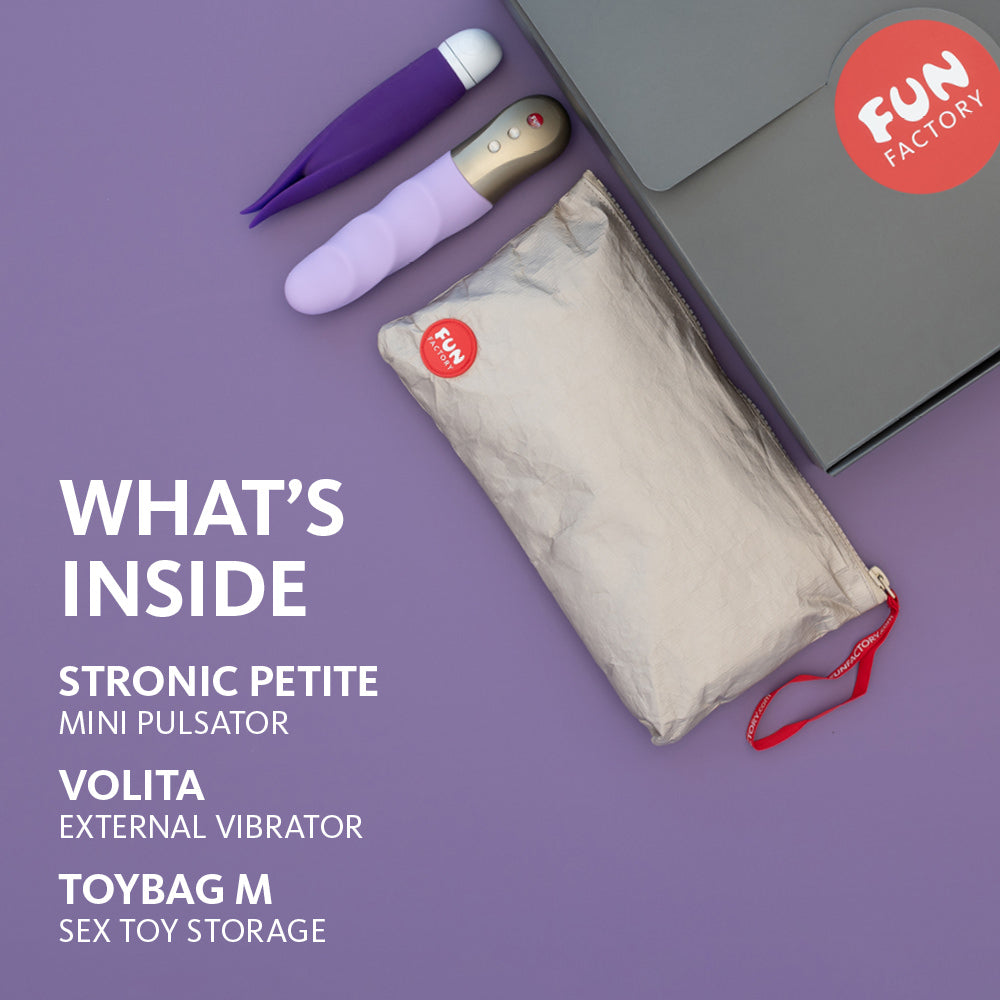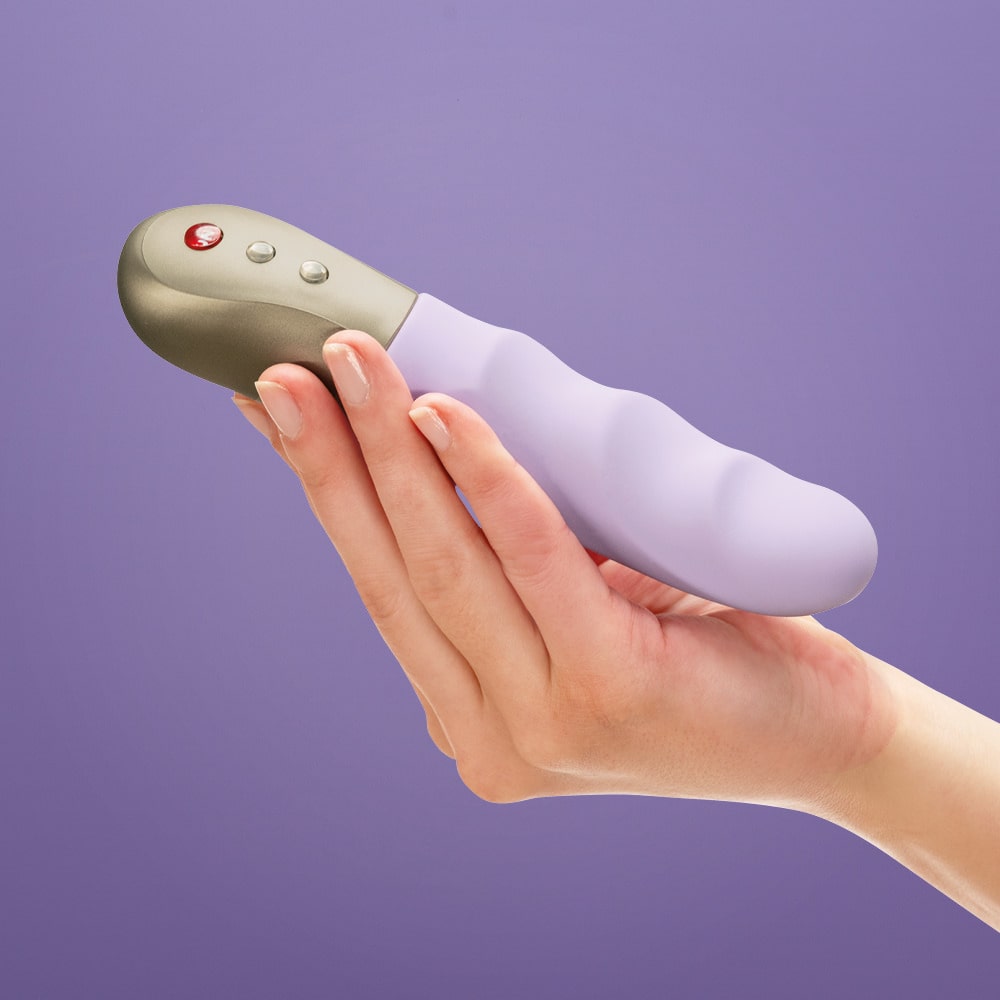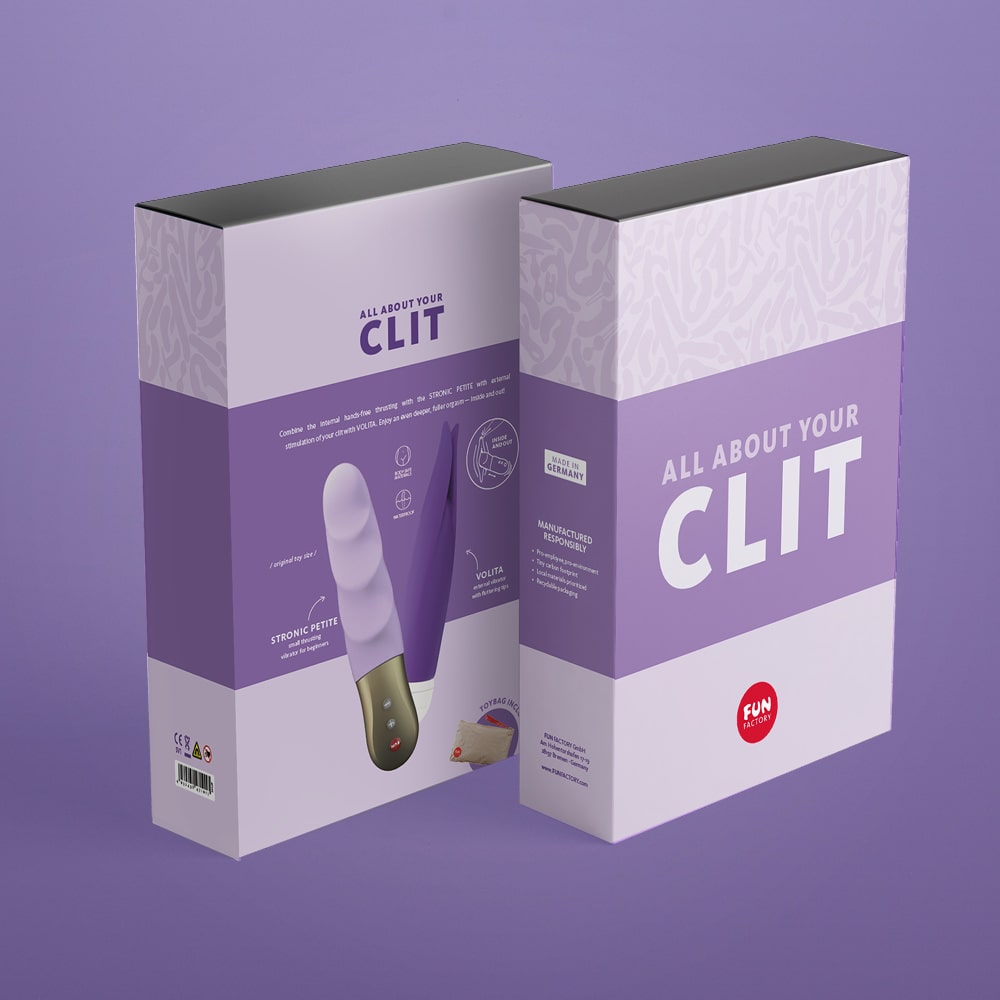 VIVA LA CLITORIS!
The clitoris is made for FUN. You might have known that already. But here's what many people don't know: The part that is visible on the outside is just a small part of the organ. In fact, the clitoral structure extends inside the body, with bulbs that sit on either side of the vagina.
So, if it feels really good to massage the outside of this awesome organ, think how FUN it would be to massage the whole thing. That's why we have the ALL ABOUT YOUR CLIT KIT. This sex toy set offers clitoral orgasms that are in a class of their own. It's now available with a savings of €20 as compared to what you'd pay for all the separate products.
WHAT'S INSIDE?
STRONIC PETITE

Our mini pulsator STRONIC PETITE self-thrusts hands-free, stimulating the clitoral legs for effortless FUN. Play tip: Vary your movements and use the textured shaft for external stimulation of the labia and clitoris. The set includes the mini pulsator in the color Pastel Lilac.

VOLITA

Our bestselling vibrator VOLITA boasts two velvety, flexible silicone tips designed for targeted stimulation of the external clitoris. This practical, battery-operated toy is perfect for a quickie, with a pocket-sized powerful motor. Long story short: VOLITA brings you excitingly intense climaxes.

TOYBAG M

Useful and stylish, our matte gold TOYBAG (size M) is made from washable, lint-free Tyvek. Pop a clean, dry toy in the bag, and it'll stay ready until your next play session. The bag is great for travel, too!
EMBRACE THE CLIT
The ALL ABOUT YOUR CLIT KIT is an ingenious sex toy set, designed for comprehensive, precise clitoral stimulation—outside and inside—and extra intense climaxes.
YOU SAY THE OUTER CLITORIS IS JUST THE TIP OF THE ICEBERG—WHAT EXACTLY DO YOU MEAN BY THAT?
The clitoris is more than the bit that's visible on the outside. In fact, the part inside the body makes up about 90% of the clitoral structure. This means that the inner nerve endings—many of which sit on either side of the vagina—hold enormous FUN potential (with the right amount of stimulation). If you only massage the external tip of the clitoris, you can only access a fraction of your pleasure potential.
I LOVE THE SENSATION OF EXTERNAL CLITORAL MASSAGE. HOW CAN THIS TOY SET INCREASE THE FUN FACTOR EVEN MORE?
The kit multiplies your pleasure! Only when you combine external clitoral stimulation with targeted stimulation of the internal clitoris can you exploit the full potential of your favorite hot spot and experience climaxes with real oomph.
SOUNDS GREAT, BUT WILL I STILL WANT TO HAVE SEX WITH A REAL PERSON?
Yes, of course, because the ALL ABOUT YOUR CLIT KIT is also great for couples. Even better, if your partner stimulates other erogenous zones, the activated area in the pleasure center of your brain—which is responsible for the experience of orgasm intensity—automatically increases. In short: More is more.
VAGINAL STIMULATION DOESN'T REALLY DO ANYTHING FOR ME. WILL THE CLIT KIT CHANGE ANYTHING?
Chances are good, because regular use of a pulsator has been shown to increase blood flow to the vagina, strengthen the muscles of the pelvic floor, and awaken numerous nerve endings. In short: Your sensitivity, excitement, and FUN will increase little by little.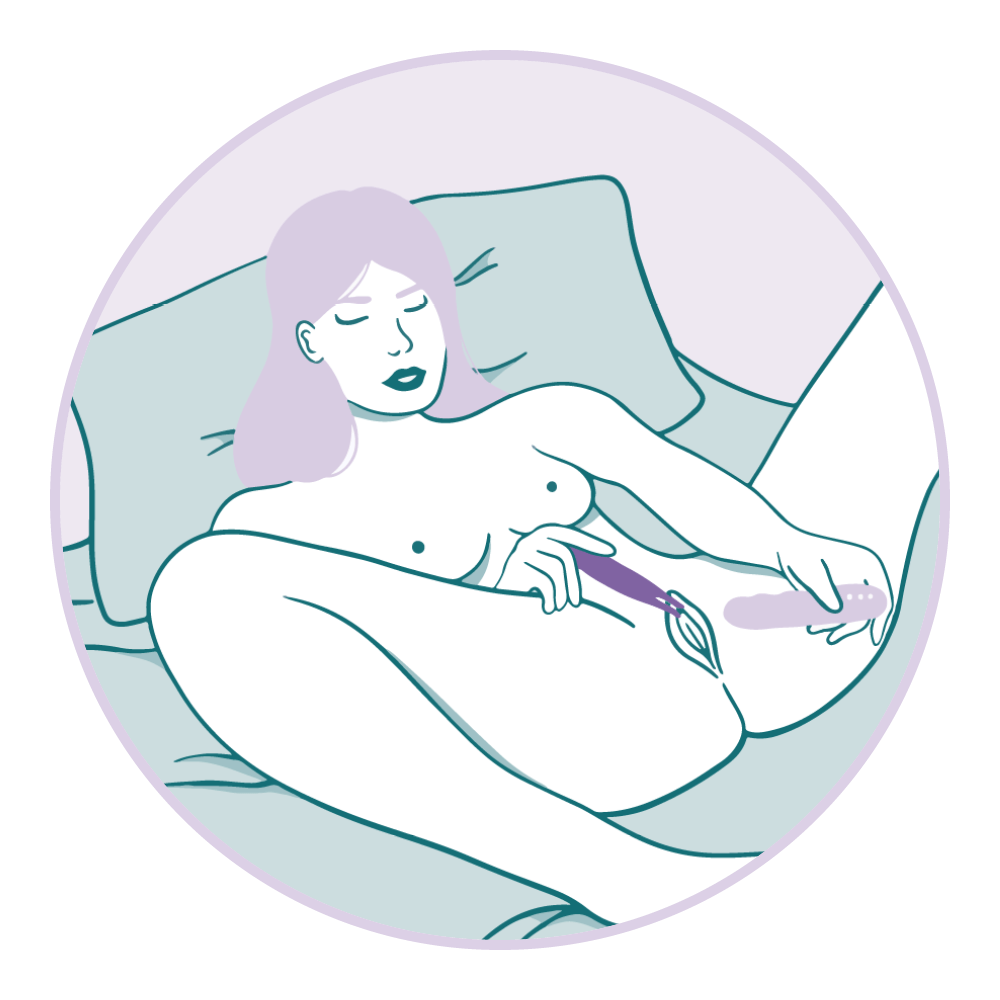 HOW IT WORKS
The clitoris is a FUN spot, but the outwardly visible glans makes up only about 10 percent of the organ. The clitoral legs and bulbs, which are not outwardly visible, surround the vaginal opening. And if you combine external massage (with our VOLITA vibrator) and the powerful, hands-free penetration of STRONIC PETITE, our mini pulsator, it's guaranteed to give you all-over stimulation and level up your FUN.